Common Hidden Fees and Holidays and Travel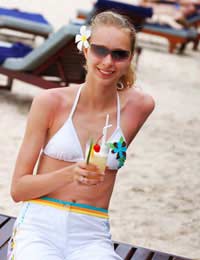 Going on holiday is all about getting away from the stress and bother of everyday life. With the advent of online travel providers, booking holiday travel is easier than ever. Unfortunately, the increased competition in the online marketplace has led to a proliferation of hidden fees and unexpected charges. Travel agents, hotels and airlines have begun to publish fantastic deals in the headlines while burying additional charges in the details.
Booking Fees
Browsing for and booking a holiday online is an excellent way to find some amazingly cheap deals. But are these attractive prices all that they seem to be? Some travel websites remarkably skilled at hiding the full actual cost of a holiday. Prices given in the headline are designed to catch your attention and draw you in, with compulsory additional charges hidden from view until after you've already committed.
One charge that is frequently added to the attractive offer price is a booking or processing fee. Although there may be administrative costs connected to booking your holiday, the booking fees that you are charged frequently have little relationship to the actual costs incurred by the booking company.
Some travel websites and tour operators will also add a surcharge for using your credit card. Although it's true that merchants must pay processing fees, these are really a normal cost of doing business online and should not be passed on to the consumer. The sad fact is that online travel merchants are not simply passing the charges on, but frequently charge you more than their actual fees.
Point-of-Sale Insurance
You should also be on the lookout for travel insurance that is automatically added by tour operators to your bill. Although travel insurance is not always such a bad idea, you can usually find third-party travel insurance that is much less expensive than the policy automatically added by your online travel provider. Opting out of the automatic insurance usually involves deselecting a checkbox during the booking or checkout process.
Flying
A recent consumer watchdog report warned that no-frills airlines are some of the worst offenders when it comes to hidden charges. Budget fliers are often surprised to learn that the fare they paid for a ticket does not cover everyday things like physically checking in at the desk or checking a bag into the hold. Cheap airfares can quickly rise to "normal" levels and beyond when airlines begin tacking on charges like fees for using a credit card to purchase your ticket or extra premiums to board more quickly than fellow fliers. Most budget airlines are publicly unrepentant - they point out that hidden charges can be avoided if consumers change their behaviour. For example, travellers can check in over the Internet instead of at the desk, and they can avoid baggage handling fees by packing lightly.
Hotels
Hotel bills can also be a rich source of hidden fee surprises. These include an occupancy tax, fees for using the telephone or Internet, charges for restocking the minibar and energy surcharges. Even if you don't go on your holiday, hotels may charge your card for cancellation fees.
Travel and tour operators complain that in an age of easy comparison shopping, headline prices must be especially attractive to keep surfers from clicking away. The Office of Fair Trading is getting involved, but for now it is up to the buyer to remain alert for hidden charges.
You might also like...