Hotel Bookings and Hidden Fees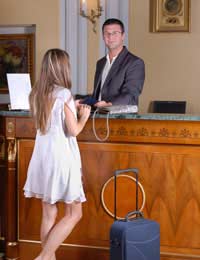 Unless you've been there before, booking a hotel is something that should take time and a lot of research. The hotel or resort that you choose as your holiday accommodation can effectively make or break your holiday. Likewise, if you're planning on staying in a hotel as part of a prolonged business trip, you'll want to know what you're letting yourself in for at the end of a long day.
The way in which you can book your holiday or business trip has changed over the years. You can still book through a travel agent or tour operator, or phone the hotel directly. But the advent of the Internet has meant that from the comfort of your own home, the options and hotels available across the globe are now more accessible than ever. Last minute deals are also easier to check up on, and features such as 'virtual tours' and readily available customer reviews make the job of researching your dream holiday. Along with the potential flight, it can also account for the biggest expenditure that you'll have to make as part of your trip or holiday, so it goes without saying that you'll want to get the most for your money.
But when booking your chosen hotel, you should make sure that you know exactly what you're paying for, and when extra charges are likely to be applied or can be avoided. To ensure a trouble-free stay, make sure you're up to scratch on the hidden fees charged when booking a hotel room.
Booking Fees and Online Booking
If you choose to book your hotel room online, the first fee you should be wary of is the booking fee charged by the travel website or online tour operator. This charge can also be implemented by high street travel agents. Booking Fees are usually not included in the special deal, sale offer or headline price on the website and added later in the booking process, or included in the price which is inflated when compared to a direct hotel booking.
Booking online is great for finding that elusive last-minute deal, and is exceptionally flexible and practical, but you should consider whether you can always get the best deal available online. With the additional booking fees taken by the travel websites, you might find that it is cheaper to call the hotel and book a room directly. If they quote a more expensive price for a room or suite, you can always try to use your Internet finds as bargaining chip to bring down the room rate. But remember they might consider that the room allotted to the travel site or tour operator may be considered already booked and not available to you.
You should also take into consideration that many travel agents, tour operators and travel websites will expect you to pay the full price of the hotel booking upfront, whereas if booking directly with the hotel, you are usually expected to pay only a deposit, with the rest being paid on arrival at the hotel. Online websites that include hotel bookings may also include an extra charge integrated into their prices to cover (and possibly exceed) the small cost they incur when you pay by card.
Service Fees
When booking a hotel room, you should always check exactly what you're paying for. Sometimes the hotel, travel agent, tour operator or travel website will provide a price for the room - sometimes per person per night - but neglect to include a hidden fee known as 'service charges'.
A service charge is a generic term for basically the cost of additional services aside from the room use, such as housekeeping. Food service can also be a hidden fee not included in the headline price. Service Fees can account for a noticeable increase in the price of the room per night, sometimes from £10 to £20, sometimes more and sometimes less. It really does depend on the hotel you book with. The trick is to check all the small print, or contact the hotel directly to establish what the service charges are, and whether you actually have to pay them.
Resort charges are also a common hidden fee not included in the brochure or website price. These are the fees that are charged for use of hotel amenities such as gymnasiums, swimming pools, tennis courts, spas and crèches. If you are adamant these extras are of no interest to you, one option is to phone ahead and tell the hotel that you're not prepared to pay for something you're not going to use. It is probably more difficult to try and omit this charge if booking online, and the charge only becomes apparent either when you try to use any of the services, or at the end of your stay.
You might also like...