Travel Currency Exchange, Foreign Charges and Hidden Fees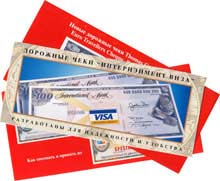 When going on holiday, the last thing anyone wants to think about is money worries! But quite literally, despite its importance, money is sometimes one of the last things to be considered when planning a trip or holiday. But many holidaymakers and business trippers can be caught out by poor exchange rates, foreign charges and hidden fees when abroad. A lack of understanding, organisation or transparency on behalf of card issuers and banking services means that the melee of charges accrued during a foreign trip only become apparent at a later date.
By having the knowledge of where hidden fees usually crop up when spending abroad, consumers can be sure to save themselves a lot of money, hassle and worry, making for a much more pleasant trip and homecoming!
Using Your Card
Although it might seem safer to take less cash or traveller's cheques on holiday with you, but did you know that each time you use your credit or debit card in a foreign country, whether at an ATM or in a shop or restaurant, the likelihood is that you'll incur more than one type of hidden fee.
Each time a card is used in a foreign country, the bank or card issuer will apply something called a Loading Fee. This charge can also be known as an adjustment charge, exchange rate conversion fee, or just a generic administration charge. It all relates to the same charge -the fee that is applied in order to convert the currency of the bank account (GBP sterling) into the local currency. The fee is sometimes incorporated into the currency conversion rate, so it can appear that the exchange rate offered is quite poor.
ATMs and Hidden Fees
Each time you use an ATM in a foreign country, alongside the Loading Fee, you'll mostly likely have to pay an additional charge. Some debit card users will be in luck as there are a few choice banks that will not charge their account holders for this service. However, the majority of banks and credit card issuers aren't as generous - the average charge incurred for withdrawing cash with a credit card is around 2.5-3%, of the total amount withdrawn. Debit cardholders can expect to pay around an extra 1.5-2% of the total amount withdrawn, or a flat rate of around £1.50 per withdrawal. With both credit and debit cards, this charge usually only becomes apparent on the monthly statement.
There has recently been some speculation that these costs could rise in the next few years to as much as 6% - this would mean that for every £500 withdrawn from an ATM abroad, an additional £30 will be accrued in hidden fees. With fees such as these, other cash alternatives such as prepaid travel cards and traveller's cheques seem a more enticing option. You should also consider shopping around for a much better exchange rate before you travel - give yourself time to research the best rates on offer, as having some local currency on you when you arrive at your destination is advisable.
You might also like...