I Avoid Hidden Fees in Online Auctions: A Case Study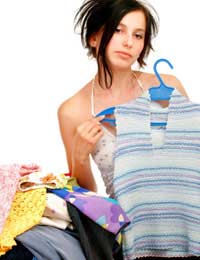 Dawn Prentice has been bidding online for over 5 years. As well as collecting perfume bottles she uses auctions to win all kinds of household items at reduced prices.
"I have twin girls and just keeping them in clothes is a big expense. Auctions are a great way for me to find lovely dresses and clothes for them at a reasonable price." Over the years Dawn has also won at auction prams, cots, car seats, toys, games – and even a garden shed! "That was a great bargain, I got it for less than £100 and my husband likes to use it like his personal office!"
Over the years Dawn has become savvy about ways to avoid the hidden fees that can turn an auction bargain into an expensive mistake. Undoubtedly the biggest area where this can happen is with shipping and delivery charges. Dawn's top tip is to bid locally if possible, especially for larger or bulky items.
Avoiding Big Delivery Charges
"On most auction sites it is possible to search geographically, so you can look for items based close to home." By doing this Dawn is able to find items where the seller is offering home collection. "Whenever I am bidding on a big item like a pram I bid on listings where I will be able to drive and collect the item in person. That has worked really well for me because then I avoid any delivery charge at all. My winning bid at auction is the total amount I pay and that is great. Otherwise the delivery charge might come to more than the cost of the item."
When bidding on items further afield Dawn is always careful to check on shipping and delivery charges. "I would never bid on an item without knowing what the shipping costs will be.
" She checks item listings carefully for mention of what the postage will be. If no charges are mentioned and Dawn is very interested in the item she emails the seller. "Any decent seller will reply with their charges. The way they get back to me tells me a lot. If they don't reply or send an unhelpful reply then I probably wouldn't want to buy from them anyway as they obviously don't value their customers. Most sellers send a helpful reply and once I have a quote for shipping that I'm happy with I can bid with confidence."
Shipping From Overseas
It is especially important to establish shipping costs for overseas items. For example Dawn buys collectible perfumes from America. "I've become familiar with shipping costs from the States. I always check their charges with the seller. Unfortunately a few sellers are tempted to try it on with overseas buyers. I was stung in the past but checking in advance helps me weed them out and I would never make that mistake again."
The other question Dawn asks sellers is if there are any handling charges. "It's fair enough, sellers have to pay for envelopes and stationery but really I feel that should be covered in their shipping costs. Handling fees can be an excuse for sneaky sellers to try and raise their profits, especially if their item has sold cheaply. I always check listings very carefully and make sure to ask sellers if need be."
You might also like...