Car Hire and Hidden Fees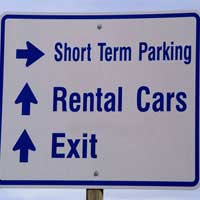 The increase in tailor-made holiday itineraries means that holidaymakers are now freeing themselves from the seemingly rigid restrictions and conformity of the package holiday. Far-flung destinations together with budget air fares and a plethora of last minute holiday deals, have seen holidays and travel become more popular than ever. This freedom to travel randomly at will has meant that car hire is an important practicality of modern travel and business trips in both the UK or abroad. Yet often car hire is left as one of the last considerations when booking a holiday or business trip.
When car hire is organised at the last moment, the customers may be in a hurry to secure a rental, and may not have time to properly deliberate over the terms and conditions of hire. Neglecting to do so could result in a glut of hidden charges being added on both before and after the car has been rented. This article reveals just some of the hidden fees that are associated with car hire.
Additional Extras
Although you may see a basic rate advertised for your car hire, or are quoted a seemingly reasonable price, this is not always the actual amount you end up paying. The basic rate may be subject to change, depending on how many people are listed on the insurance policy, and whether any modifications have been made to the car. For instance, if you're driving in a wet or cold country, your tyres may be changed to adapt to the wintry conditions. Some car hire companies will actually charge extra for this. Likewise, if you need any roof or bicycle racks, child or booster seats, again these extras will amount to additional fees on top of the base hire rate.
Location, Location, Location
Interestingly, location can be a factor that affects the cost of your car hire. An extra hidden fee can be incurred in the form of airport tax if picking up your car from the airport. Some car rental companies will also charge an extra free if you need to change either the pick up or drop off location of your vehicle from that mentioned in the company's agreement or terms and conditions.
Fuel Charges
When hiring a car, it is not uncommon for the car to come with a full tank of petrol - usually charged for at a premium rate. However, many car hire companies also expect the car to be returned with a full tank of petrol, which they make their customers pay for. If you fail to return your car topped up with fuel, and subsequently the rental company has to then fill the tank up themselves, don't be surprised if you are charged around twice the going rate for a full tank of petrol for their trouble!
Damage Control
One common but oft-overlooked bug-bear of car hire customers are the charges incurred for insuring the hired car against any damage. Collision waiver damage insurance is offered by all car rental firms, but this optional extra charge is usually above and beyond any price offered by a specialist independent insurance company. You should also be aware that even if you take out this policy with the car hire company, in the event of an accident and any damage to the car, you may still be expected to pay anywhere from around £200 towards the cost of repair.
It is also worth your while demanding an immediate damage check on the car once you have returned it to the car hire company. There have been reports in the media of some car hire companies giving their employees commissions and bonuses for charging customers for damage to the vehicle. In many instance this damage has been hotly disputed by the customer, especially when they've only realised that the hidden charge was applied to their credit card at a later date. Whilst this unethical practice is now under review, it is still advisable to check the car for any damage, however minor, before you hire it. To avoid any dispute, make sure that an employee is present to concur with and record any findings.
Remember that overall, car hire is usually a trouble-free and extremely practical and worthwhile component of any business trip or holiday. By taking time to carefully review the best car hire companies and carefully read all the terms and conditions of the rentals, you'll be well on your way to an enjoyable and relaxing ride.
You might also like...