Credit Cards and Hidden Fees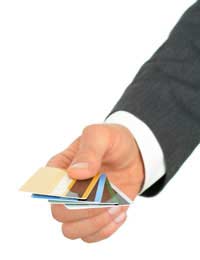 The use of credit cards to make purchases has increased significantly in the past decade in the UK. With many cards offering incentives such as interest free periods on purchases and balance transfers for new cardholders, it's not surprising that so many are using credit cards to bolster their purchasing power.
However, once the 'honeymoon' period of an interest-free term ends, just what are you left with? Many credit cards will apply hidden fees in a multitude of circumstances, leaving their customers stung by the unexpected extra charges, often making repayments more difficult than they intended. Understanding when these hidden fees may occur, and how to avoid them will help to keep monthly statements free of any unwelcome surprises.
Late and Overlimit Fees
The interest applied on credit card purchases seems to have been subject to a general increase in recent years. It is thought that this could be a reaction by credit card providers to attempt to recoup their losses - most notably through the reclaiming of 'unfair charges'. These charges are often also regarded as hidden charges, the two most frequent offenders being late payment fees and overlimit fees.
Once a late payment fee is applied, the cardholder only becomes aware of the charge when they receive their monthly statement. Depending on the card provider, the fee is typically around £10 to £25, and in most cases is non-negotiable. This also applies to the overlimit fee - the charge is applied on each monthly statement where the cardholder has gone over the limit. Overlimit charges can cost the cardholder anywhere from £10 to £25 or more, usually with no apparent cap on the amount of times the charge can be applied in successive months.
In many cases these seemingly excessive hidden fees can render repayments more difficult to make. Often if the cardholder is in the situation where these fees are simultaneously applied, then the debt can become unmanageable, as well as damaging for their credit rating.
Using Your Card Abroad
When abroad, whether on a business trip or holiday, cardholders may find that some spare cash in the local currency is required. One of the quickest ways to obtain this money is to use a credit card to withdraw money from an ATM (automated teller machine, also known as a 'hole in the wall').
However, this quick-fix solution is most definitely not the cheapest option. Not only is the cardholder charged a 'hidden' interest fee on all ATM cash withdrawals, but an additional hidden fee is also applied when making a cash advance from abroad.
This hidden fee is known as a 'loading fee'. It can also go by the name of an administration charge, exchange rate conversion fee, or adjustment charge. This fee is the charge applied by the credit card provider for changing the sterling in your credit card account into the local currency. Typically, a loading fee will be included in the exchange rate offered by the credit card company, which makes the rate of exchange appear poor. The loading fee is rarely apparent until the credit card statement is received.
There are a small number of credit card companies or credit card providers that will not charge a loading fee. If you travel abroad regularly, it is really worth your while taking the time to research the best card for your needs, or considering other methods of obtaining currency without carrying out wads of cash. Some of the popular alternatives include prepaid travel cards and traveller's cheques.
Balance Transfers
If thinking about switching credit cards, there are many cards available with some alluring special introductory rates for new customers. Offers such as an interest free period on new purchases, or 0% interest on balance transfers are just two of the most common deals available.
However, new credit cardholders should always make a point of reading the small print relating to these seemingly good deals. These days, card companies are employing small 'hidden charges' in order to discourage customers from bouncing their balances onto new cards in order to exploit their introductory interest-fee periods. The most common hidden fee in this instance is the balance transfer fee. This is usually around 3%-5% of the transferred debt. So, for instance if you are transferring £2,500 worth of debt onto another card, you will pay a one-off fee of £75, which will be added to your total balance.
To make the most out of your credit card, the key is to shop around and find a card that best suits your spending patterns and your needs. The best advice that can be offered is to really take the time to read the small print to avoid any nasty surprises.
You might also like...