Utility Bills and Hidden Fees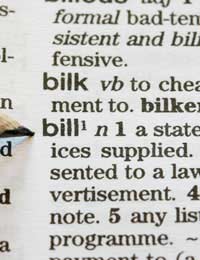 It sometimes feels like there is a never-ending stream of utility bills landing on the doormat each month. Most UK homes are resident to at least one telephone line, as well as being hooked up to both gas and electricity supplies. With ever increasing fuel bills, and living expenses seeming to creep up with each year that passes, many people are struggling to meet their monthly outgoings.
Alongside mortgage or rental payments, it is fair to say that a large chunk of monthly salaries are poured away on utility bills alone. But aside from paying for the supply of these services, it seems that many consumers - mostly notably the more vulnerable elderly - are also dwindling away small but significant amounts of money each month on hidden fees.
Payment Methods
In recent years, many utility companies have been keen to get their customers to switch to the more frugal method of paying via direct debit. However, those that prefer to pay by cash or cheque quite literally pay for their choice, with many companies now slapping on an extra hidden fee for not paying with their preferred method.
Popular with telecom companies, this charge goes by the name of a 'payment processing fee', and can cost the consumer up to and around £5.00 per month. As you might expect, many companies will not make a huge fuss about advertising the fact that they charge this extra hidden fee, so you may have to peruse your monthly statements quite carefully.
Bear in mind that even those that use Internet banking to make electronic transfers are hit with this charge. This is despite the fact that it has been argued that this payment method is as quick and efficient as direct debit. There are even some telephone and broadband providers that will not take on new customers that won't pay via direct debit.
IGT
Many gas pipes are owned by Transco – a fact that is only really noticed by those who live in a building that has gas pipes that
don't
belong to Transco. This is because those that live in a building in which the gas transport system is not supplied by Transco have to pay an additional charge.
Independent Gas Transporter (IGT) charges can account for up to £50 in extra hidden charges. They usually appear as a quarterly charge of around £10 plus VAT, and it seems have only become apparent in the last couple of years. Previously many gas suppliers covered this cost themselves, but the recent change has meant, that for seemingly undisclosed reasons, the charge is now being billed directly to the gas customer.
Check Your Meter Reading
It may seem a bit like a no-brainer, but you might be surprised how many consumers are overpaying each month for their utilities. In the absence of an accurate meter reading, water, gas and electricity charges are estimated and consumers are billed accordingly.
Whilst in some cases, consumers may find that they are paying less than their actual usage, in comparison many consumers have found that they are paying considerably more, significantly increasingly monthly or quarterly payments. Water usage in particular seems to be one of the most over-estimated consumptions – so although an extra cost in itself, having a water meter fitted can work out favourably for some consumers. But also providing regular meter readings for gas and electricity can help to keep costs relative and as accurate as possible.
You might also like...