Broadband Services and Hidden Fees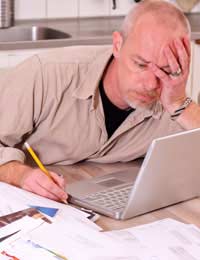 The Internet has become a firm feature and part of everyday life in many a home across the United Kingdom. Many Internet users are now making the most of the modern bandwidth and speed capabilities that a broadband connection can offer. Although broadband prices have reduced in recent years, some customers have found that they've incurred unexpected costs not directly related to their service packages, only when they receive their monthly statement.
Despite a pending investigation and review by the communications services watchdog Ofcom as to whether these hidden fees are fair, broadband service providers still continue to tack on these extra charges. The lack of transparency in advertising by broadband providers about potential charges remains an important issue as far as consumers are concerned. It is hoped that these fees will be reduced or invalidated in the future - but at present the best way to avoid these hidden fees is to know where they are most commonly incurred, and why you may have been charged in the first place.
Direct Debit & Paper Statements
Direct debit is a really fast and easy way to pay off your monthly balances. But not everyone is in the position to pay off a balance on the same date each month. Although broadband service providers can receive payment in a number of ways - from debit card payments over the phone, to cash at a designated PayPoint or bank, or cheque through the post - many are in favour of using the easier direct debit alternative.
Although customers are allowed to choose which method of payment they'd prefer to employ, it is an increasing trend that some broadband service providers will actually apply an extra charge for not using this service. Sometimes this charge can amount to as much as £5. Whilst this practice is currently under investigation, it is not clear whether the providers will be made to revoke such charges, and so the customer may still fall foul of them.
Broadband providers can also apply hidden fees in the guise of a charge for a paper hard copy of a statement. Whilst it is definitely more eco-friendly and cheaper for the service providers to send out electronic statements, some believe that the hidden charge of around £2(as with Virgin) for a paper statement does not reflect the real cost of sending out a bill in this way. As there is currently no legislation in place to prevent these charges, customers may either have to carry on incurring the charge, or make the switch to online statements.
Premium Lines and Changing Details
If you need to contact your broadband provider by phone, it is likely that you'll be provided with a premium phone number. These commonly begin with the numbers 087 or 090. Some broadband providers actually have a free phone number, but do not advertise this, instead making their premium rate number more visible on statements and the website. Always double-check your provider's website, the customer service desk, or the small print on your monthly statement to see if there are alternative numbers to call.
If you are moving house, you may want to stick with your current broadband provider once you are in your new home. But before you pick up the phone to inform your change of address, be aware that by doing so, you may be at risk of unwittingly acquiring extra hidden fees. Some broadband providers will actually charge a one-off fee to move your broadband service to your new address. Namesco is one such provider that charges customers just shy of £60 for this service.
Late Fees, Cancellation and Reconnection Charges
Many of the big name broadband providers are applying hidden fees for late payments and any subsequent reconnections, as well as for cancellation of contracts. Customers should be aware that late payments could amount to as much as £10, and in many cases the broadband service providers will not rescind this fee. If your payment was late due to an error outside of your control, you may well be able to reason with a customer service advisor who may be able to refund the fee to you.
However, if late payments have resulted in your services being cut off, you should be aware that many broadband providers such as Virgin and BT will not only charge this late payment fee, but also expect you to pay for the services to be reconnected. This can cost anywhere from £20.
Similarly, if you have entered a special package deal with a broadband service provider, you may be unaware that you have entered a contract whereby you are expected to use the service for a minimum of 12 months. Cancelling the contract within this timeframe can often result in another hidden fee being applied - this can be anywhere from £45 upwards, although some providers may prove cheaper. The trick is to check all terms and conditions before you sign up to any package deal, no matter how good a deal it seems. Be sure to ask about cancellation policies and charges before you sign on the dotted line.
You might also like...