How to Read the Small Print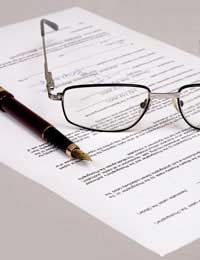 Most of us are not legal experts. When applying for a bank loan or purchasing an item on credit it is tempting to simply sign the contract. However it really does pay to read the terms and conditions hidden away in the small print. Taking a few minutes to examine them thoroughly can help you avoid the unexpected shock of hidden fees.
What Exactly is Small Print?
Small print is the popular phrase for the legal terms and conditions attached to any business contract. This can apply to everything from opening a bank account, applying for a mortgage, booking a holiday or signing up for broadband.
It is called small print because it is usually written in a small font and hidden away at the bottom of a physical document. If your transaction is online then typically you will be asked to agree to terms and conditions but will need to open up a separate window if you want to read them.
Hidden amongst these dry lines you may find disclaimers, waivers, exemptions, onerous conditions on you, restrictions (for example on insurance cover) and hidden additional costs and charges. It is always in your interests to familiarise yourself with the small print before signing a legal contract.
The sales person is rushing me to sign what can I do?Never let yourself be pressurised into signing a contract, especially for major purchases, even if a salesperson claims you may miss out on a great deal. Firmly request time to read through the terms and conditions. If necessary take the contract away with you so that you can examine it carefully before you sign.
Whether you are dealing with a banker, insurer or retailer always ask for clarification about any jargon or technical phrases where the meaning is unclear.
What Words Should Trigger Alarm Bells?
Terminology varies between industries. Always read any 'penalty clauses' which usually indicate you will be liable for an additional fee in certain circumstances. Other terms which may send up a red flag for you to consider include 'redemption fee', 'annual fee', 'cancellation fee' and 'non-refundable.' 'Introductory offer' is also worth investigating as it suggests that the amount you currently pay will increase in the future.
Where relevant always to check the length of your agreement. Are you tied in for a fixed term and have you been made aware of this obligation?
Although not a hidden fee another important aspect to consider is data protection and confidentiality terms. Are you agreeing for your details to be shared with third parties? This could lead to unwanted solicitations for your money from other companies and potentially make you more vulnerable to such virtual crimes as identity fraud.
Where else can I find help in understanding the small print?Browse the Hidden Fees website for more information on the small print to be found in specific areas. You will find helpful guidance under each of the main headings from Banking & Finance to Shopping and Travel & Leisure. You can also use the 'Ask our Experts' query form if you have a specific question.
Citizens Advice Bureaux can also provide you with specific advice on your rights in relation to contracts for consumer services.
You might also like...